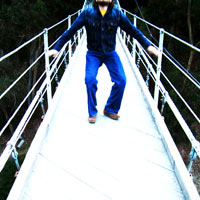 "It was in the mid-eighties, maybe '84 or '85. I was with my mother walking through the park when we passed a group of kids break dancing, blaring 'Freak-a-zoid,' from a boombox. I remember I was wearing a green izod shirt and a member's only jacket with my pants tucked into my socks! But even as a snot nosed kid I was stricken by that sound, I wanted to know what made that sound...I wanted to make that sound mine! Needless to say, a childhood fascination with sound led me to music."
Son of a Jazz Guitarist, Angelo Emile Gastelum's Love for Music may have began as his Father serenaded his pregnant Mother with 'Quiet Nights by Quiet Stars,' 'Misty' or 'My Funny Valentine' to the the cooing unborn fetus inside her belly, each string defining a frequency of emotion resonating into each dividing cell.
Musically Driven by his family and encouraged to take piano lessons as a child, Angelo performed at several recitals before his teachers discovered he did not know how to read & had in fact been playing by ear the whole time.
A self taught guitarist, Angelo spend his teen years woodshedding with an acoustic guitar and in the tradition of his native blood, studied Percussion under a Sacred Santerio; striving to understand the dynamics of rhythm's ancient frameworks in order to one day incorporate the secrets of clave in his own music.
After a period of dj and live p.a. performances in the 90s, Angelo focused on his own music by exploring the fusion of recording random sounds with instruments, then layering them with computer edited sequences.
With no formal outline or approach he retreated to a bedroom studio for several years...patiently cultivating his own distinct sound; a melting pot of jazz-funk, nufolk with lush avante garde minimalism and off clave beats adorned with scattered pieces of malfunctioning machines in a sea of serendipity.
Yellow Brick Road:
San Diego -> Hidden Meadows -> Escondido -> Omaha -> Boise -> Santa Barbara -> San Diego -> Tijuana
Gang Affiliations:
n/a
Favorite Salad Dressing:
Oil and vinegar w/ a dash of pepper
Undergarment of Choice:
Boxers
Total Stitches Lifetime: 157
El Poeta Releases :::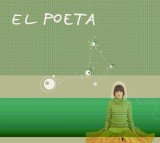 El Poeta
Musically Speaking


El Poeta Press: